ACCT1015: Accounting Behaviour and Organisations
Precision Design Pty Ltd ('PD') is an innovative industrial design firm providing realistic 3D digital imaging using the latest drafting technology. Emma Janson founded the firm in 1981. She has seen it grow gradually over the last two decades. It now employs 18 designers and 10 support staff.
Ten years ago, Emma decided that she was spending too much time managing the firm and not enough time designing and interacting with clients. She appointed Rashmi Rajapaksa as the general manager of PD. Rashmi's management style focuses on control. She believes that a business organization is like a finely tuned machine. Everything must be planned and then executed as planned. There should be no surprises.
Design and drafting technology is advancing quickly. Emma and other senior designers have discussed the feasibility of adopting a 'paper-free' policy and introducing 3D printing, but Emma has been reluctant to make the move. 3D printing would enable PD to produce realistic and timely 3D models, which will, in turn, facilitate more refined designs through more effective consultations and collaboration with clients.
On occasions, designers have conducted design reviews and provided feedback online rather than on paper, but minor glitches in the hardware tend to frustrate their efforts. The move would require significant hardware and software upgrades, as well as more technical support. Allocating the required resources may require reduced spending in other areas such as marketing, training, etc.
Emma knows that in the long run, embracing these emerging technologies is essential for operational efficiency and service quality. It is just a matter of finding the funds required. She intends to make a move within the next year.
Rashmi has fine-tuned the budgeting process over the last 7 years. Resources are allocated where they are needed and spending is tightly controlled. If spending on a particular item comes in over budget, the person responsible is reprimanded and their future spending is carefully scrutinized. If spending is under budget, then the allocation is in excess of what is needed and is revised downward for subsequent periods.
Rashmi finalizes the budget for the current year immediately after receiving the financial reports for the current year. Rashmi uses budget information and variances for employee performance evaluation and bonus allocation.
Cora Mwangi is responsible for training and IT.
Cora planned this year's spending meticulously. But she is having trouble executing her plans. Seven designers were scheduled to receive advanced training on the latest 3D design software in May 2019. Two candidates, and PD's most productive designers, Mary and Martha went on maternity leave
before the training commenced. Another candidate, Sussan needed the new software for a project that was due in March 2019, so she taught herself how to use the new software by working through the manual. Sussan has since completed four projects using the software.
She now has a busy workload and does not want to attend the training in May. Sunday, 30 June 2019 is the end of the financial year and is fast approaching. Cora is worried that her spending on training may end up being 30% below budget. She was having lunch with one of the software sales reps recently when he mentioned that he will be attending a seminar on negotiating skills and contract law.
The conference will be held in June 2019 at a luxury resort on Bintan Island. Cora asked Susan if she would like to attend. Sussan was delighted. Cora also acquired a new software package for customer relations management (CRM) and stocked up on paper and ink for the printers. She is now on the budget and is more confident about her performance appraisal with Rashmi in June. Another senior designer, Zhang Wei, has just returned from 3 months of sick leave.
The business was slow during the second half of 2018, but demand for PD's services has recovered in recent months. Emma has projects on the books but does not have enough designers to complete and deliver the work on time. She may need to outsource some of the work, but the outsourcing may take some time to arrange.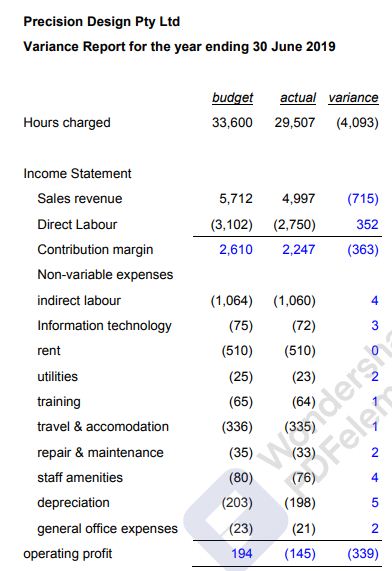 Tasks
1. Prepare a flexible budget for Precision Design Pty Ltd (PD) for the year ending 30 June 2019. What do flexible budget figures tell us about PD's performance? (Copy and paste your table from excel). Provide a thorough analysis with examples from the case.
4. Rashmi is beginning to suspect that her management style, particularly her approach to budgeting and performance measurement may not be optimum. She seeks your help. What would you recommend?